What is the Cost of Real Estate in Thailand?
December 24, 2021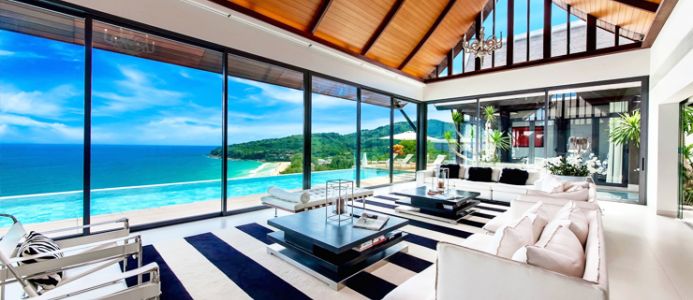 As the most popular tourist location in Asia, Thailand is a fascinating place to visit.
Beyond tourism however, Thailand is increasingly being regarded as an ideal residential and business location. Indeed, its geography, climate, environment, economy, natural attractions, etc., all combine to make Thailand a location worth owning real estate in.
But, what does it cost to own a piece of prime real estate in this promising country?
Of course, the answer to this question will vary depending on your preferences because real estate in Thailand, just like elsewhere, comes in various types, sizes and locations, as well as with different features.
In this article we will focus on the cost of real estate in Thailand based on the type of real estate in question, using regions such as Koh Samui and Bangkok as examples.
Hopefully, at the end you will get a general idea of what your preferred real estate might cost in other regions of Thailand.
Cost of Villa/House in Thailand
A 1-bedroom modern sea view villa in Koh Samui usually goes for TBH 4-5 M (note: 1 Thailand Baht equals 0.033 US Dollar), while a 2-bedroom sea view villa can be gotten for less than double this amount, say, TBH 8 M.
Singles and young couples usually prefer these for obvious reasons. However, luxury villas/houses do cost a lot more in comparison, about 50% more than standard villas. A 2-bedroom luxury villa for example can cost up to TBH 12.5 M or more in the same region.
If you require something more spacious for the family, villas with 3, 4 and even up to 8 bedrooms are obtainable. 3-4 bedroom villas are usually priced TBH 10 M and above, with their beachfront luxury counterparts in the range of TBH 30 - 50 M.

Cost of Condo/Apartment in Thailand
The cost of a condo/apartment in Thailand is comparable to that of a villa/house. 1-bedroom condos/apartments in many areas of Thailand usually do not cost more than TBH 5 M, and may even be bought for as low as TBH 1.2 M in some areas like Koh Samui.
But the cost of 2-bedroom apartments and above can vary widely depending on location.
In Bangkok for example, a 2-bedroom luxury apartment or condo can cost up to TBH 23 M, but comparable luxury apartments can be bought in Phuket for about half the price.
3-4 bedroom standard apartments and condos, on the other hand, can cost anywhere from TBH 7 M to TBH 12 M in areas such as Phuket and Koh Samui.

Cost of Commercial Property in Thailand
Prime units in commercial complexes are available all over Thailand for businesses looking to establish in the country.
If you wish to secure a unit in a popular commercial complex in Koh Samui for example, you could spend up to TBH 7.5 M.
If, on the other hand, you want to make a much bigger investment in properties that generate cash flow, luxury and beachfront hotels can be acquired for anything between TBH 45 - 450 M, depending on size and other factors.

Cost of Land in Thailand
How much you pay for a plot or more of land in any region of Thailand will generally depend on how strategically the land is located, how accessible it is, proximity of certain infrastructure, and quality of basic amenities such as electricity.
A plot of land (about 450 sq m) in Koh Samui goes for about TBH 2 M, 2-3 plots (1250-1600 sq m) can go for TBH 4M - 6M, and so on. In areas like Bangkok however, prices can be considerably higher.

Final Thoughts
We hope you have gotten some idea of how much to budget for your dream property in Thailand.
Just remember that although the price of property in Thailand continues to rise, real estate here is still relatively cheap compared to western standards, and Koh Samui remains one of the most desirable locations to invest in.