Recently Viewed Properties
Conrad Properties: Professional Real Estate Agency in Koh Samui
Welcome to Conrad Properties: Luxury Professional Real Estate Agency in Koh Samui. We are dedicated to providing you with complete, professional, and personalized advice on Koh Samui real estate for sale.
Browse through our massive collection of properties in Koh Samui for sale. Whether you\'re looking for hillside sea-view villas, luxury beachfront villas, and other great land investments, we can be of service. We'll be with you every step of the way in finding and owning your very own dream real estate property for sale in the beautiful island of Koh Samui, Thailand!
Extensive Pool of Koh Samui Real Estate For Sale
We are a trusted real estate agency with a behemoth selection of luxury villas, modern condos, and other amazing properties in Koh Samui for sale.
Our property advisors in Koh Samui — also called "Coconut Island" — are very experienced in this field. They have rich knowledge of this specific market and are updated with the latest information on the island. They are very skilled in helping clients find and acquire the best properties in Koh Samui for sale.
Conrad Properties advisors are well versed with local laws as well as updated on developments in Koh Samui real estate regulations. They will be by your side at all times throughout what appears to many people as a complex legal process: purchasing Koh Samui real estate for sale (either as a Luxury Freehold Property or Leasehold Property) in Thailand.
Why Invest in Properties in Koh Samui For Sale
A large number of people and businesses alike have sought our help to invest in luxury properties in Koh Samui in recent years. We observed that many of the individual buyers are expatriates, business people, and foreign retirees — and all of them are well aware of the many benefits of investing in a Koh Samui real estate for sale.
Here are some of the main reasons why we at Conrad Properties agree that acquiring properties in Koh Samui for sale is a smart decision:
1) Pure Charm

The country of Thailand itself is, no doubt, a beauty. Bangkok, its capital, is a popular tourist destination due to its bustling city life, great accessibility, and exciting activities. Unfortunately, largely due to those very same reasons, Bangkok has become crowded, noisy, and polluted for many people. As a result, people have turned to finding their own bit of paradise outside the capital, and Koh Samui is undoubtedly and unsurprisingly a leading choice.

Located in the Southern Gulf of Thailand, the scenic and tranquil island of Koh Samui is considered by many as the epitome of a tropical vacation destination and hidden getaway. With its location by the gulf, it features stunning coastline beaches, majestic views, and virgin natural resources. All of these and more combine to make it an astonishing place for people seeking a memorable holiday as well as those who are out to find their dream family home or new investment property.

2) Fast-Growing Market

The number of properties in Koh Samui for sale have been rising in the past decade. In fact, Koh Samui has become the second most developed island in the country for real estate, just after Phuket. This is due to a large number of property developers that are constructing nearly all types of buildings in the island, even including upscale resorts, hotels, and restaurants.

Because of its fast growing real estate market (and prices seeing a constant 5 to 10 percent year on year increase since 2016), Koh Samui real estate for sale has become a preferred choice of British and Hong Kong expats among others. On top of that, the island offers a far more affordable luxury holiday experience compared to Europe.

While the value of every property in practically all parts of Koh Samui is appreciating, we at Conrad Properties strongly recommend that you buy properties in Koh Samui for sale that are located in an exclusive, safe, and well-maintained community. Many of our clients found their Koh Samui real estate for sale (especially beachfront properties) in areas like Chaweng Noi, Bophut, Lamai, and Maenam.

Other good neighborhoods to consider buying a Koh Samui real estate for sale in are Choeng Mon, Plai Laem, Chaweng, and Bangpor. Bangrak, Lipa Noi, Thong Krut, Laem Sor, Taling Ngam, and Laem Set are wonderful locations as well.

3) Rich Infrastructure

Koh Samui offers not only untainted beaches, lush forests, and tropical bliss; it also features a large selection of amenities and attractions that cater to all sorts of crowds — and the number just keeps on growing every single year.

After all, Koh Samui's international airport welcomes millions of passengers every year. It has direct air links to Singapore, Hong Kong, and Kuala Lumpur. Koh Samui also has huge shopping centers (like Tesco Lotus) and diverse attractions (such as Fisherman's Village) for entertaining people of all ages.

In addition to that, this tropical island is protected by stringent building codes and regulations, thus making it practically impossible to become a highly populated area. This, in turn, helps protect the value of properties in Koh Samui for sale. For instance, no buildings on the island can be taller than 12 meters in order to prevent blocking the breathtaking views of the sea.

In the past decade, we've seen more and more schools, hospitals, and other important facilities open on the island to cater to the growing number of people who want to permanently reside, retire, or invest in Koh Samui real estate for sale. Transportation options and international dining choices are steadily growing as well.
Crucial Advice Before Buying Koh Samui Real Estate For Sale
1) In the past decade, we've seen more and more schools, hospitals, and other important facilities open on the island to cater to the growing number of people who want to permanently reside, retire, or invest in Koh Samui real estate for sale. Transportation options and international dining choices are steadily growing as well.
2) Know your purpose in buying Koh Samui real estate for sale. The reason for this is that your specific reasons and preferences should be taken into account when searching for the right property, since it can be quite overwhelming and enticing to see all the beautiful properties in Koh Samui for sale.
3) Choose the right location for your needs. All areas of Koh Samui certainly offer a slice of paradise, but certain areas are particularly geared for certain types of people. For instance, if you're adventurous and love surfing, a beachfront villa near Chaweng Beach is ideal for you; however, if you're a retiree with growing children, a site near shopping centers like Tesco Lotus might be more suited for your family or retirement home.
4) Work with a professional and experienced Koh Samui real estate agent. For instance, Conrad Properties can provide a large selection of choices and recommend the best properties in Koh Samui for sale that are tailor-fitted for your needs, taste, and budget.
How to Buy Properties in Koh Samui For Sale
Are you a non-Thai citizen who's convinced that Koh Samui is the best site for your next real estate property? If yes, read on to find out what you need to know about purchasing Koh Samui real estate for sale.
First of all, you need to be aware that the Land Code of Thailand does not permit foreign nationals to own and develop real estate properties in Thailand, including in the island of Koh Samui. In spite of this, foreign nationals can acquire a villa, house, condo, or any other Koh Samui real estate for sale using one of these two methods:
Method #1 - Through a long-term contract with leasehold
You can take advantage of a lease contract deal that has a term of 30 years. This can then be renewed or extended by up to two times. All throughout that timeframe, you will be treated as the rightful owner of the freehold. This option allows foreign nationals to keep a Koh Samui real estate property for a total of up to 90 years.
Method #2 - Using a company with limited liability
If you have greater financial resources, there's another way for you to acquire properties in Koh Samui for sale: using a freehold.
To go about this, you first need to form a limited liability company in Thailand, which will serve as the owner of freehold land that's acquired under the company's name. One of the company's owners or investors can have up to 49 percent, and two or more foreign shareholders are allowed. Foreigners can act as the company's managing director and, therefore, hold power over voting control and other shares, along with absolute control of the purchased real estate property in Koh Samui.
Why Use Conrad Properties to Buy Koh Samui Real Estate For Sale
We at Conrad Properties take pride in being one of the most trusted and professional real estate agencies in Koh Samui. Over the years, we've established a highly reputable brand that delivers on its promises to clients in terms of quality, budget, and customer service.
Here are the top reasons why thousands of buyers have trusted us to be their partner in finding and buying Koh Samui real estate for sale:
1) Extensive Listing

We have an enormous and diverse portfolio of properties for sale in Koh Samui. You can choose among luxury villas (including beachfront ones), houses (whether flat or on the hillside), modern condos, upscale apartments, lands of all sizes, and so on.

Our listings come in all shapes and sizes, and suit a wide variety of budgets and preferences. We have properties for sale in Koh Samui for practically every type of buyer, so check out our listings to find your dream property today!

2) Competitive Rates

We offer our real estate services at absolutely no cost: it's free for property buyers like you. Instead, our commissions come directly from the property owners. This enables us to provide buyers of Koh Samui real estate for sale with the most affordable prices in the market.

3) Area Specialization

Conrad Properties specializes in providing advice and services in Koh Samui real estate for sale. Our advisors are all extremely knowledgeable and highly experienced in this market, after honing their craft for many years. They'll be able to guide you in navigating property, environmental, and zoning laws in Koh Samui, Thailand, among others.

You can rest assured that they'll present you with the best investment opportunities — whatever your preferences and budget may be. Thai laws are constantly changing, and our advisors continuously update their knowhow and skills to provide the best services and advice in choosing and acquiring properties in Koh Samui for sale.

Our diligent team of property advisors are available to answer all the questions you may have when it comes to Thai laws, foreign property ownership in Koh Samui, and other related concerns. Moreover, our advisors are wonderful communicators and adept in speaking English (as well as Thai and French), which definitely helps make communication easier and transactions go more smoothly.

4) Truly Independent

While we have terrific working relationships with all property vendors, Conrad Properties is an independent and professional real estate property agency in Koh Samui that's devoted to offering unbiased services and advice.

Because we are not tied to any specific project or property developer or owner, we are empowered to provide completely objective advice to our clients. Thus, you are assured that we can assist you in finding and buying the property that is truly best for your unique needs.

5) Reliability

We have a stellar track record in providing first-rate services and advice relating to properties in Koh Samui for sale.

Whether you are an existing customer, a new client, a referral, or even just a prospect, you can expect us to treat you with a superior level of care and attention to ensure that the search and purchase process for your Koh Samui real estate for sale is the best it could possibly be.

We have built our reputation on a solid foundation of business acuity combined with the highest code of ethics. We take pride in providing honest and reliable Koh Samui real estate property services and advice.
Take advantage of huge discounts in Koh Samui real estate properties for sale due to the COVID-19 pandemic. Search for your dream property in Koh Samui, Thailand today!
Selling Your Property?
If you would like to have your property listed for FREE, please contact us with the details and we will be happy to assist.
4 THINGS YOU SHOULD KNOW ABOUT US
Committed

We are an independent property agency committed to providing professional, reliable real estate services, to help you find your dream property in Thailand or Asia.

Customers

We focus on your needs as a customer first, to help you find the right property. With a friendly team of staff able to speak many languages, we can take care of you even after your purchase.

Choice

We have an extensive choice of properties for sale and rent in Thailand and Asia, from private villas and luxury apartments, to freehold condominiums, and land investments.

Competitive

Our services are free for both property buyers and renters. Our commissions only come directly from property owners, so our buyers can get the most competitive price available on the market!
From exclusive Real Estate developments in private gated communities, to foreign freehold condominiums and apartments, we offer a handpicked portfolio of luxury accomodation in Koh Samui. With competitive prices, premium quality and prime locations, our multi-lingual staff are happy to assist you find your dream property.
We offer a wide selection of Koh Phangan real estate, from holiday homes to luxury sea-view villas & condominiums with full resort facilities. Browse our list of property for Sale in Koh Phangan & Join our mailing list to receive property promotions.
Luxury Real Estate in Koh Samui has experienced very strong demand in these recent years, with exclusive new sea-view villas and prime beachfront properties for sale, with upmarket buyers from Hong Kong, Singapore & China. Feel free to browse our unique handpicked collection of Luxury Properties for sale in Koh Samui, Thailand.
Services
we
offer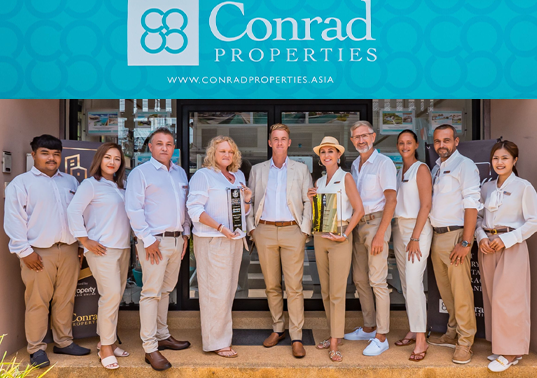 At Conrad Properties we are committed to delivering the best possible service, to ensure you are completely satisfied with your property choice.
Contact Us Today
We specialize in sourcing land for sale in Koh Samui and surrounding areas; from prime beachfront land, to pristine sea-view land on hillsides and flat land for bespoke villas, all inspected and approved for our client's security. The land we list on our website is a fraction of the land we have available. Please Email us for a full list.
As an independent real estate agency we are not tied to any specific projects or owners, and can offer our clients unbiased FREE property consultation. Whether you are a new, referral or regular customer, we will treat you with the same level of patience and respect, to ensure your property purchase is as smooth as possible experience.
You may be wondering Can foreigners buy property in Thailand? If you are looking for reliable Real Estate advice on property laws in Koh Samui, we offer a dedicated hub of accurate information, including: property taxes & legal fees. To help you navigate your Koh Samui Real Estate investment successfully check out our Buyer's Guide..
Client Testimonials
"
We had a wonderful experience working with Conrad Properties. Zanette went above and beyond to assist us in the purchase of Villa Celadon on Samui, and made the entire process very ...Read More"
Jennifer M, Singapore
"
Hard to describe in words how much effort Conrad is spending to generate customer satisfaction. With the highe ...Read More"
Tom Buckenberger, Germany
"
They have a broad and good portfolio and their agents are considerate and patient and show you all their properties and don't rush you into buying. They respond fast and have fai ...Read More"
Boerries Baumann, Germany
"
Many thanks to Conrad and especially to Zanette, who found exactly the Villa we were looking for and who supported us always with the highest level of competence in the sales process ...Read More"
Silvin Bruns, United Kingdom
"
Conrad found us our dream home. I would recommend anyone looking to buy or rent to use Conrad. Always polite. Always helpful. Always informed. Someone you can definitely trust.
"
Andy Woodhouse, Hongkong
We believe our passion, creativity and commitment are the keys to helping you find your perfect property. Let's get started!