Koh Samui Building Regulations and Zoning Rules
May 16, 2021
The thought of owning or building a property in Koh Samui is on many a wish list – whether it's a place to retire to, a vacation home or develop a thriving real estate or tourism-focused business. Identifying which zone the land is in - is your first step to making a well-informed choice about building a home or business in Koh Samui.

Sounds relatively simple? It can be, but if you crave the most desirable locations – such as a plot close to the beach, or a cliff top home with million-dollar ocean views, then there are certain Building and environmental regulations that we must keep In mind.
As for the unprepared, a grand idea can soon descend into an expensive mistake without the necessary due diligence. That's why preparation at the very outset is essential before you take the plunge. Keen to ensure development of land remains sustainable, there are various protections in place to preserve agricultural land and areas deemed to be of environmental importance.
In short, you just can't build a dream home anywhere you like. The island is divided into several zoning system where only certain types of development are allowed in some zones, and in in others, no building of any kind is permitted. Let's take a look at each of them in detail.
Zoning Regulations
Only areas designated in specified zones are permitted for construction. On first glance the Koh Samui Real Estate zoning system seems overly complex and a regulatory minefield for the first time property investor. There are a dozen main zones and most of these have their own specific rules and caveats. However, we have narrowed it down to zones 1, 2, and 3, which are the ones most applicable for residential properties.
Zone 1: This is classified as a low-density residential zone, and covers the largest area of residential land in Koh Samui. It is mainly for properties such as villas with appropriate surrounding space, so that there are no built up residential areas with close neighbours.
Zone 2: This is also for individual residential buildings and hotels, although the population density in these areas is greater. It also allows for large residential projects for different types of housing units, subject to having the necessary utilities in place like water supply and waste disposal.
Zone 3: This is available for a mix of residential, commercial and recreational projects. There are various conditions which must be met for residential buildings, such as a maximum height of only six metres. At least half of the total plot area must be left green, and residences must be built in a Thai or tropical design.
Environmental Regulations
How close you want to be from the beach, how high your plot is above sea level and by what gradient your land slopes are all key factors to think very carefully about. There are strict conditions in place from a safety and environmental perspective that governs exactly what you are able to do on your plot of land. Here is the lowdown on are the main issues you really need to know about.
Building Regulations near the beach
Of course building directly on the beach is prohibited. If fact no construction is allowed within 10 metres of the beach. In an effort to protect views of the beach, there are stringent conditions about the overall size of buildings and their height.
From 10 - 50 metres from the beach: Buildings may only have a single floor and must be no more than 6 metres in height, including the roof. The total floor area of a structure must not exceed 75 square metres.
From 50 - 200 metres from the beach: Further back from the beach, large buildings of up to 2,000 square metres are allowed, and the height, including the roof, should be a maximum of 12 meters.
More than 200 metres from the beach: The height of each structure, including the roof, should be a maximum of 12 meters.

Check out our collection of Koh Samui Beachfront Villas for Sale if you are looking to invest for a beachfront property.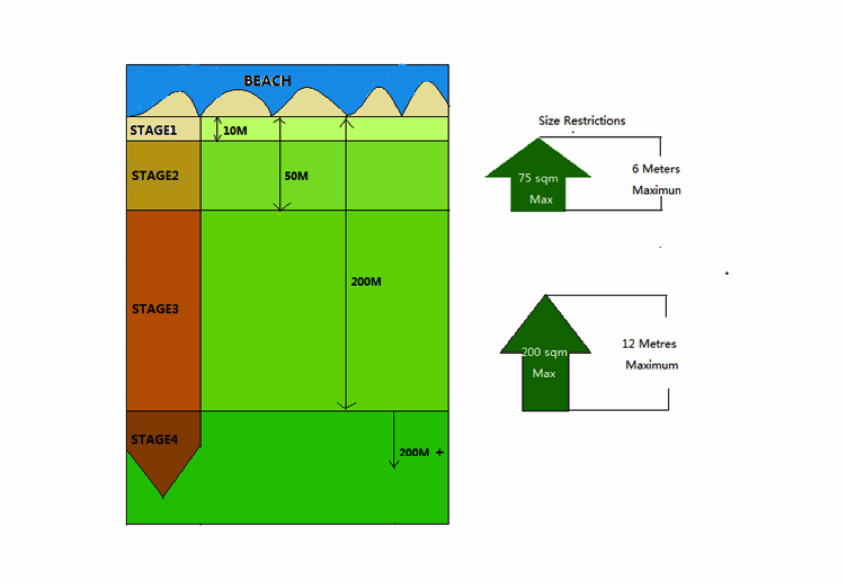 Height above sea level
Hillside and cliff top plots of land are always in high demand thanks to the awesome ocean views they command but certain additional rules kick in depending on the altitude.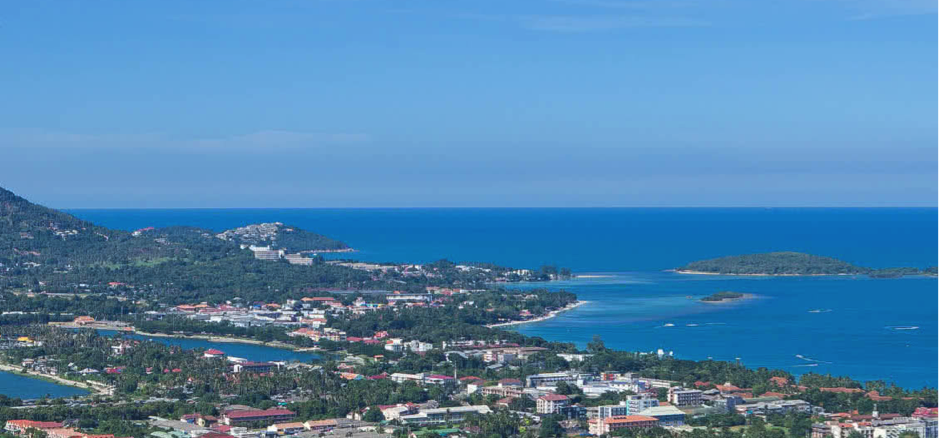 Less than 80 metres above sea level: There are no additional regulations for single home construction but developments that plan to build more than 10 units must have sufficient water and waste treatment systems. If a hotel is being built, at least 50% of the plot must be left vacant as green land.
From 80 - 140 Metres above sea level: Only a single home may be constructed which should be no more than 6 metres in height including the roof. The land area should be a minimum of 400 square metres with a suitable water drainage system. In addition, 50% of the land must be kept green and the architectural design should be traditional Thai or tropical style.
More than 140 metres above sea level: Structures should be no more than 90 square metres in total floor area.
Check out our collection of Koh Samui Sea View Villas for Sale if you are looking to invest for your dream property.
Sloping Land
Less than 35 degrees slope: There are no additional regulations
From 35 - 50 degrees slope: It must be a single home on a land plot measuring at least 480 square meters. The total floor area of a structure must be no more than 80 square meters, and 75% of the land must be left green. Of this, at least 50% should be planted with native trees.
More than 50 degree slope: No building is permitted on land with more than a 50% gradient.
These are the main issues you need to factor in when hunting for the ideal plot of land and when drawing up a design concept. Before starting construction, a building permit must be applied for at the local municipal land office. This applies to building from the ground up on vacant land, as well as significant modifications of existing structures.
These building laws and regulations are there for a reason – to make sure there is no rampant over development as well as to safeguard the natural aspects of the landscape, including the all-important sea views. Although not perfect, these thoughtfully laid out rules do help in the long run to protect your investment. Nothing beats the peace of mind of knowing that in five years' time, your area you choose won't be overrun with hulking high-rise buildings blocking your sea view and sending property values plummeting.
For information & assistance in regards to Koh Samui Property development, get in touch with us to schedule a free consultation with our property advisors.