Top 5 Secluded Beaches in Koh Samui
October 13, 2018

Koh-Samui is the 2nd largest island, located off the east coast of Thailand.
Beautiful beaches, lush tropical forests, turquoise sea, scenic sunsets will leave you in awe - especially the simplicity of the place which makes the island a busy tourist destination. ​
With so many things to see and experience, there are some some secluded beaches that are more hidden from the public eye.
So if you are ready to retreat into paradise...then let's go!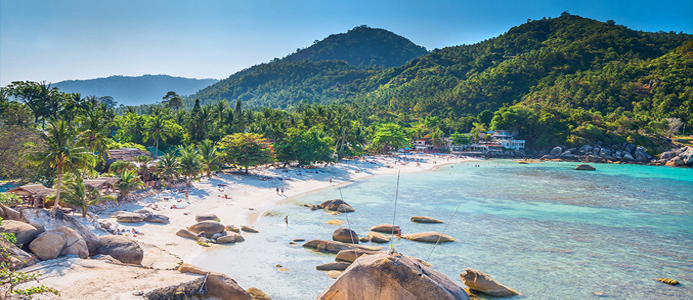 Silver Beach
Silver beach is one of the hidden secret beaches of Samui - nestled between Chaweng and Lamai, it is easy to miss as you drive down the winding hill. Drive slow or you'll miss this hidden gem.
With crystal clear turquoise waters, Silver beach gets its glamorous name from it's soft white sands that shines silver in the sun.
Whilst this tiny beach is becoming gradually more popular with tourists it still retains it's picture-perfect looks!
Pro's: Clean, quiet, soft white sands, coves for fishing
Con's: Becoming more popular with tourists
Samrong Beach
Samrong beach lies in the northeast corner of the island near Choeng Mon. Beautiful, relaxed tropical beach with shallow waters covered with coral gardens and seaweed.
This beach is a good option to get away, with limited leisure activities due to the seaweed beds & corals, including just volleyball & kayaking.
There are some charming hotels like Arayaburi which offers a free passage to the beach through its territory. Also the majestic Melati 5-star resort and also some spectacular New Luxury Beachfront Villas.
The nearest places of interest are the Big Buddha and Wat Plai Laem Temple, which are 5 minutes around the corner. It is also only about 15 minutes drive to the airport. Being one of the most convenient options to stay for those, who travel to Samui by air.
This is a perfect getaway from the hustle bustle of the city life to just relax & rejuvenate in the silence of nature.
Pro's: Clean, quiet & secluded
Good for kayaking
Con's: Sharp Corals
Shallow Waters – restricted swimming
Tongsai Bay Beach
Tongsai bay is often mistaken as a 'private beach', due to its hidden location and proximity to the famous five star Tongsai Bay resort which shares this beach.
In actual fact, there is technically no such thing as a 'private beach' in Thailand, unless in some rare case a whole island has been purchased by an individual or company.
The beaches in Thailand are owned solely by His Majesty The King.
Of course a hotel or resort may 'corner off' a beach by the way in which it is built, but even in these cases they must legally allow tourists through the property to access the beach, should they request in a polite manner with a Thai smile!
Tongsai bay also shares it's beach with a small bungalow resort & restaurant, and is famous for being secluded and a popular 'selfie-spot', with a striking coconut tree jettisoning-out horizontally towards the sea – the perfect place to swing or sit surveying this paradise bay!
The access to this beach is easy to miss – look out for signs to Melati Resort & Spa, as the access road is shared with this other 5 star resort that cascades elegantly down the hillside.

This area is close to Plai Laem and is developing fast, with lots of new properties. You can find the latest Properties for Sale here.
Pro's: Clean & secluded
Picture-postcard scenery
Good for sunbathing
Con's: Too many happy looking couples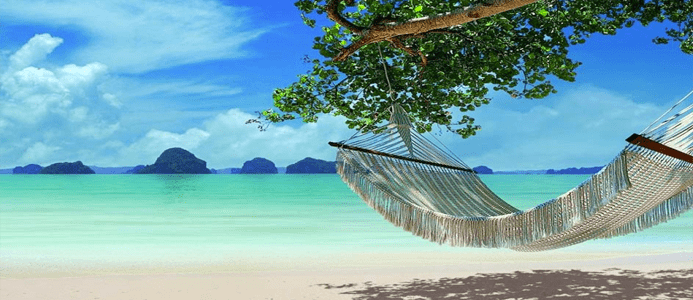 Lipa Noi
With deserted golden beaches, located in a peaceful and quiet area, Lipa Noi has a more intimate feel - perfect for romantic walks or sunset dips. The beach has fine white sands with no corals or seaweeds, making it one of the best beaches especially for young children.

The water is shallow for up to 100 metres and the sands are reddish sand with the water being a bit muddy. There is also some exciting new beachfront development in this area, whilst still retaining a laid-back feeling of tropical paradise.
Pro's: Smooth, soft white sands
Famous Nikki beach-club
Con's: Muddy silt/sand under the water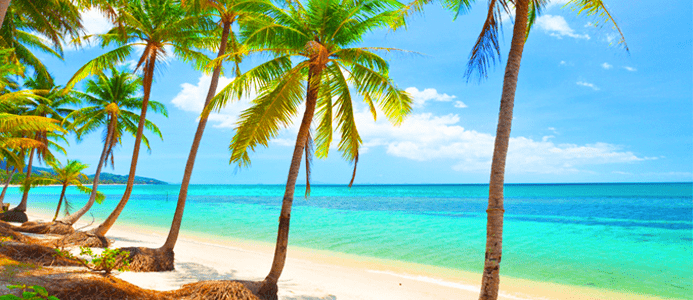 Ban Tai beach
Located on the north side of Koh Samui, on a small lagoon with clear waters and fine sands is the beautiful beach of Ban Tai.
It is one of the few "secret" places on the island, of which tourists know very little as it is also situated very far from the main road.
The total length of Ban Tai beach is approximately 2 kilometers, and is great spot for swimming and sunbathing on the island.
One of the best part is the amazing coast line to the west, where you will be able to watch the amazing sunsets. There is a great option for houses for sale Samui with its good location close to shops, markets and restaurants, without losing the originality while making it a perfect place for a peaceful relaxation.
Pro's: Good for swimming
Stunning landscapes

Con's: Far from centre
*Well done to those of you that made it reading this far...
As a special gift, here's one more secret beach just for you!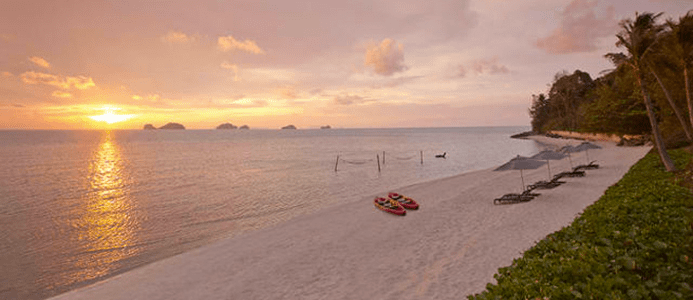 Pang Ka Bay
You can live on the island for years and still not find this mysterious, magical hidden beach in the South-West of Koh Samui.
Now since the famous five star Conrad Hotel arrived on the far side headland of this bay, it has finally been 'put on the map'...
But it is still hard to find and not uncommon to see nude-sunbathers looking rather sheepish as you stroll up this quiet beach!
Pure white sands, crystal clear azur waters, mesmerizing views of the Five Islands - this beach really is heaven on earth!
Pro's: Crystal clear waters
Pure white sands
Skinny-dipping

Con's: In the middle of nowhere!
Avoid travelling alone
Having said all this, it is best to come explore & experience the magic of the island of Samui yourself!
*For more information on travel tips and FREE Real Estate Advice feel free to Contact Us.