Koh Samui Villas for Sale: Best Investments of 2021
February 23, 2021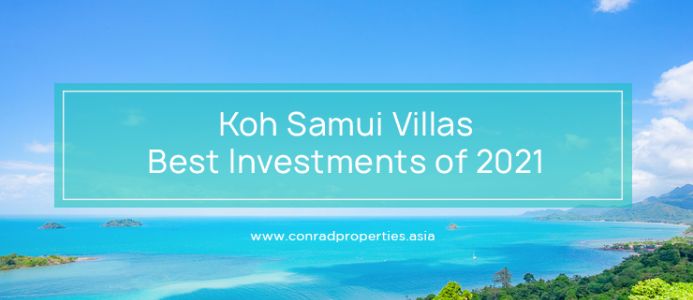 This property buyer's guide aims to navigate you through the best recommended budget & mid-priced Villas for Sale in Koh Samui, Thailand. Sit back and enjoy the ride, whilst we shortlist our favourite modern & tropical villas for sale on the idyllic emerald island of Koh Samui, situated in the Southern Gulf of Thailand.
Thailand Real Estate Investment
The Southeast Asian tourist hot spot of Thailand is world-famous for its bustling nightlife, tourist attractions, rich culture, and gorgeous beaches. The majority of its economy is tourist-heavy, which is why developers – both foreign and local – with strong investment in building residential properties or rental resorts on Thailand's many islands and cities, catering to a variety of classes and target markets.
Bangkok, as Thailand's capital, is the most popular city, frequented by foreign tourists for its accessibility, city life, and breadth of activities. It is also the central business district of Thailand, because of its rapid development and population number. However, because it is the most-known, Bangkok can get quite overpopulated, constricting, chaotic, tight, and even too polluted. There is at times also considered an 'over-saturation' of supply, relative to demand, in this particular market, mainly in the budget & mid-priced condominium aspect of the market, which is why tourists, Thailand citizens, local and overseas investors and property developers have started looking outside of Bangkok for travel and business opportunities. One of the top islands for property investment is Koh Samui, located just in the southeastern Gulf of Thailand.
About Koh Samui
The beautiful island of Koh Samui is hailed by many visitors, both local and foreign, for being the ideal hidden getaway and vacation spot. Because it is located by the gulf, Koh Samui is blessed with pristine coastline beaches, with shallow waters, spectacular sea-views, and untouched resources that make it a breath of fresh air for those looking to escape the stress of the city.
In the past, Koh Samui has been favored as a mere holiday destination by families looking to unwind and enjoy nature's finest for a few weeks, before returning to reality. However, things have changed – Koh Samui has been steadily growing to become 'a real estate gem' for property investors and developers looking to put up luxury resorts, restaurants, and hotels for the more affluent market.
Due to its rapidly increasing real estate market (and prices at a steady 5-10% year-on-year increase since 2016), Koh Samui finds itself among many British and Hong Kong expat's first choice of investment opportunities, especially when it comes to holiday excursion properties, 5-star luxurious rentals, and private residences. It has become the second most developed island for real estate development after Phuket, with major hotel chains focusing on building rentals on Koh Samui more aggressively than ever.
Koh Samui's airport also provides better direct air links to Hong Kong, Singapore, and Kuala Lumpur, after Bangkok's Suvarnabhumi Airport. Koh Samui's international airport handles millions of passengers a year, with 3 new routes to China in the pipeline. This only means that more foreign investors will have easier and quicker access to Koh Samui's potential; this also goes for tourists looking to live luxuriously in a tropical setting, at a reasonable price.
Koh Samui is attractive to investors, in the sense that its setting is unique – you're getting untouched island beaches, jungle backdrops, exotic and tropical atmosphere, and privacy, within minutes of amenities, restaurants, and attractions. Koh Samui also has laws that protect its environment – no building can exceed 12 meters in height, providing unblocked, panoramic, scenic views of the seascape.
The Global Property Report said that Thailand's property market has shown an annual growth of 5 to 10% from 2016 to 2020, making it a solid investment for the foreseeable future. COVID-19 aside, Koh Samui still keeps its coveted spot as a relatively inexpensive luxury holiday destination, in comparison to Europe.
Thailand's land values are considerably higher, while its rental yields are also among the highest in Asia. This means great returns in the luxury property market, with a yield of 8-10% are most achievable. It has been growing consistently since 2013, with its infrastructure also improving. With more schools, transportation hubs, hospitals, and facilities, Koh Samui is also a great investment for Luxury Property for Sale in terms of permanent residency and retirement.
Although tourism continues to be greatly impacted by the pandemic, the property market remains attractive as a long-term investment. Particular to Koh Samui, the tropical island is safeguarded by strict building codes and regulations. The likelihood of it turning into a densely populated tourist red-zone is slim, ensuring the property is valued high through the years. With the property market in its infancy stages, Koh Samui foresees steady growth through 2021.
Ready to invest in some of Koh Samui's best investments of 2021? Here are some Koh Samui villas for sale, once you're ready for tropical luxury.
1) Luxury 3-Bed Sea View Villas on Chaweng Noi Bay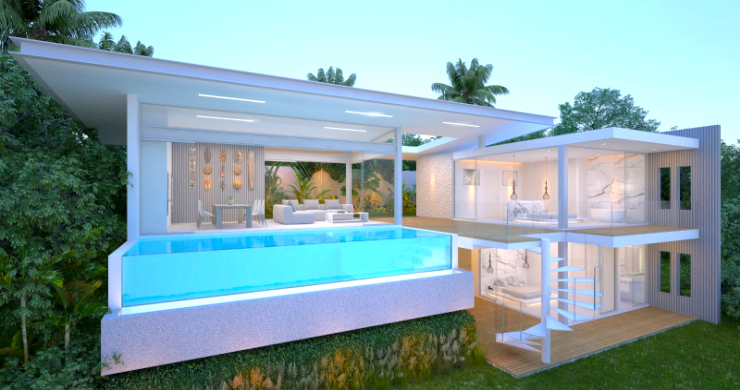 ​
Set on the Chaweng Noi hillside, this luxurious, ultra-modern 3-bedroom villa boasts of a close-up sunrise sea view across the bay, lush greenery, and birdlife, making for the perfect tropical and tranquil getaway; also guaranteeing privacy and exclusivity in a prime location.
Placed on a hill, this villa offers plateaued sections at the front and back for private gardens – a first for this kind of property at its price and elevation. Inside the modern structure is an open-plan living space with the kitchen at the other end, surrounded by full-length and full-width windows. Coupled with a dressing table, separate shower, tub, twin vanity units, and natural granite boulders incorporated into the structures, this premium villa is a steal – especially since it's a 5-minute drive from Chaweng Noi Beach and a 15-minute drive from the international airport.
2) Luxury 3 Bed Villa Sea View Residence in Chaweng Noi
​
This modern sea view pool villa residence is one of the latest developments in Chaweng Noi. This 3-bedroom villa boasts of a very sleek and modern build. It comes with unique designed roofs, an open-layout for the dining and living room area which is a seemingly popular option for these types of spaces. Not only does it create a perception of a larger floor area, it also illuminates the room better, making it appear more bright, more vibrant.
However, it is this property's outdoor terrace that is its greatest charm. The deck extends to the pool-side sala seating area, overlooking the greenery and the ocean -making it perfect for outdoor barbecues and gatherings. Built by a successful & developer on the island this is a recommended project.
3) Tropical Modern 3-Bedroom Sea View Villa in Lamai
​
Ever dream of waking up surrounded by trees and an expertly manicured lawn? This Thai-inspired luxury modern 3-bedroom sea view villa is both chic and tropical, set on the hillside and adjacent to vistas of the island's seascape. This communal island home located in Lamai boasts a large, open plan living area, a lounge on both sides for the pool deck or shaded garden, and a Western-style, high-end kitchen. Aside from resting, this villa is great for entertaining, thanks to its cozy corner TV lounge, indoor breakfast bar, poolside dining, floor-to-ceiling windows, and sliding doors for seamless indoor-outdoor entertaining.
The tasteful furnishings, polished wood, stone floors, natural wood, and lavish semi-open en suite bathrooms with outdoor showers make this villa a stunning choice for a luxurious permanent residence or a beach rental for guests – it is, after all, only 5 minutes away from the main beach and food scene.
4) Tropical 2-3 Bedroom Villa in Lamai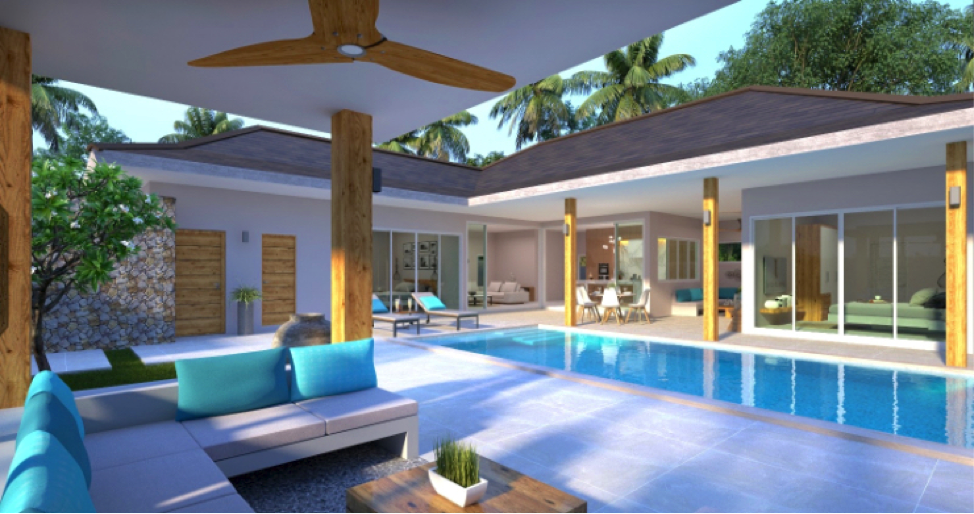 For those in need of a more secluded, private, and quiet tropical oasis of their own, this tropical Koh Samui villa is a good option – it's situated within a coconut grove in the tranquil area of Lamai, set on a 440-square meter land plot. The residential estate is also fully walled in and secure.
The villa's spacious, open-plan living and dining area is greeted with a view of the private pool through full-height sliding glass doors for a seamless outdoor-indoor experience and breezy atmosphere. It comes with a fully-equipped modern kitchen, breakfast bar, island area, private terrace, swimming pool, outdoor shower, and a covered seating area. With its assurance of privacy, luxury, safety, and space, this villa makes for a personal beach vacation home or an affordable villa investment rental option.
5) 3 Bedroom Sea View Luxury Pool Villas in Bophut
Bohput is located close to the beach amid coconut groves, which makes this 3-bed luxury pool villa a steal for investors looking for a secured, tropical gateway that is still conveniently close to amenities and restaurants. This Koh Samui luxury villa, located in a gated, private community, has an ultra-modern, minimalist design and state-of-the-art fixtures and furnishings.
Aside from its open-plan living and dining area, the villa also offers an indoor view of the large, infinity-edge pool outside and stone terrace area through its floor-to-ceiling folding glass doors. This getaway home also provides a sunken covered seating area submerged at the poolside, perfect for unwinding with a drink after a long day. This relaxing experience proves enticing for international investors looking to buy or rent a luxury villa that could pose as a rental or even as a permanent home.
6) 3 Bedroom Luxury Villas in Chaweng Noi
Set in the exclusive Chaweng Noi hills, this luxury villa offers an unblocked view of the sea, set over two stories with a sky terrace for the 3rd floor that surveys the stellar Chaweng bay. For those looking for a more rustic atmosphere, this is a good investment – the property features acacia-wooden clad columns, a homely interior design, hardwood beds, hammocks, linen curtains, swinging sofa bed, and an open-plan living and dining area with a fully-equipped kitchen and breakfast bar.
Space is not an issue here, either – each double bedroom boasts en suite bathrooms with tubs and rain showers, while the outdoor area has a sun-terrace and infinity-edged pool with sun loungers and a lush garden. You can choose to buy it fully furnished already at a competitive price.
7) Stylish 3-4 Bed Sea View Villas in Chaweng
​
This luxury villa provides a view of the sea from over two stories high, on the sky terrace. The modern beach house design is Zen-style, but offers a natural earthy interior design with hard-wooden features and a fully-fitted Western-style kitchen.
Aside from the Balinese turquoise stone tiles used, the stylish villa also offers an open-plan living and dining area, infinity-edge pool, open-air, roof-bar terrace area, sun loungers, and tubs and rain showers in every bathroom. They are available fully furnished and decorated to a high-level and at a competitive price.
8) Minimalistic 4-Bedroom Sea View Villa in Chaweng Noi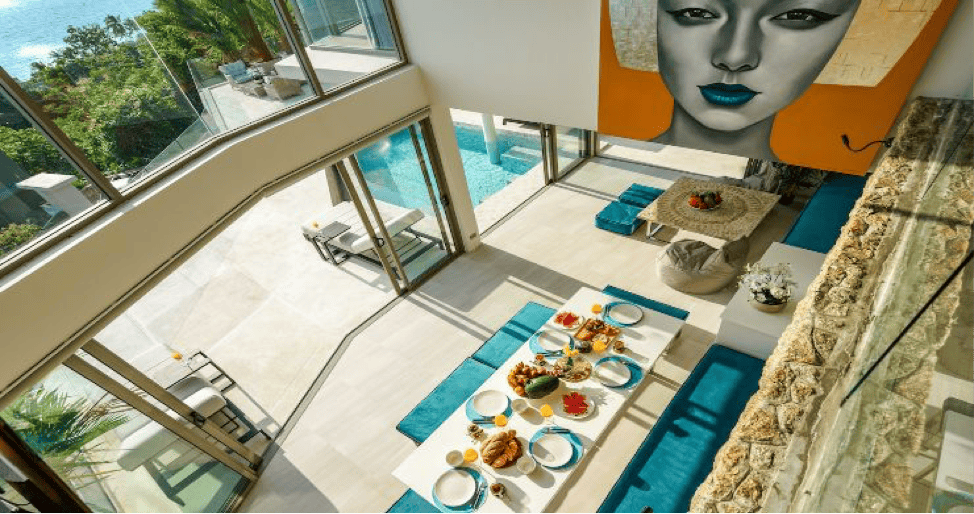 Minimalistic doesn't necessarily mean simple, because this 4-bedroom sea view villa in Chaweng Noi is anything but. This luxurious villa spans three floors with high vaulted ceilings, accentuated by stone features, natural wood, plush fabrics, and the occasional stone or earth. The open-plan, full Western kitchen includes premium appliances and a breakfast bar. Even the en-suite bathrooms are far from simple – each comes with a built-in walk-in closet.
Outside offers an infinity-edge pool, sala, and relaxing BBQ dining area with stunning vistas of nature and the sea. The luxurious but comfortable atmosphere of this villa, considering its size, quality, and price, makes for a good investment as a residential home or beach rest house, with high rental returns on investment.
9) Charming 3-Bedroom Modern Pool Villas in Maenam
Maenam, a peaceful, private, and tranquil location two kilometers away from the gorgeous Maenam white sand beach, makes this modern pool villa a private oasis within a gated community, surrounded by lush coconut groves. Luckily, though, it is still just a 5-minute drive away from the famed Fisherman's Village, where fine-dining restos and attractions await.
This tropical luxury villa boasts a Balinese chic design, complete with tiled roofs, solid construction, stone-cladded front, rustic doors, a pool terrace, swimming pool, and manicured landscaping. Step outside and be whisked away to the tropics – there are Buddha statues, a private lawn, natural rock features, lush palms, and sun loungers on this idyllic sanctuary. The modern-chic interior is 149 square meters big, with a spacious lounge area and a dining area with a 6-seater Acacia table. The bedrooms, each with their own en-suite bathrooms, expand to the pool terrace area, which houses a 44-square meter pool.
These luxury pool villas are still in development, but when finished, will come fully-furnished and decorated. They're available to purchase turn-key (ready to move in or rent out immediately), so this luxurious oasis makes for a reliable rental investment or private home for a family.
10) Modern Beachside 3 Bed Sea View Villa in Hua Thanon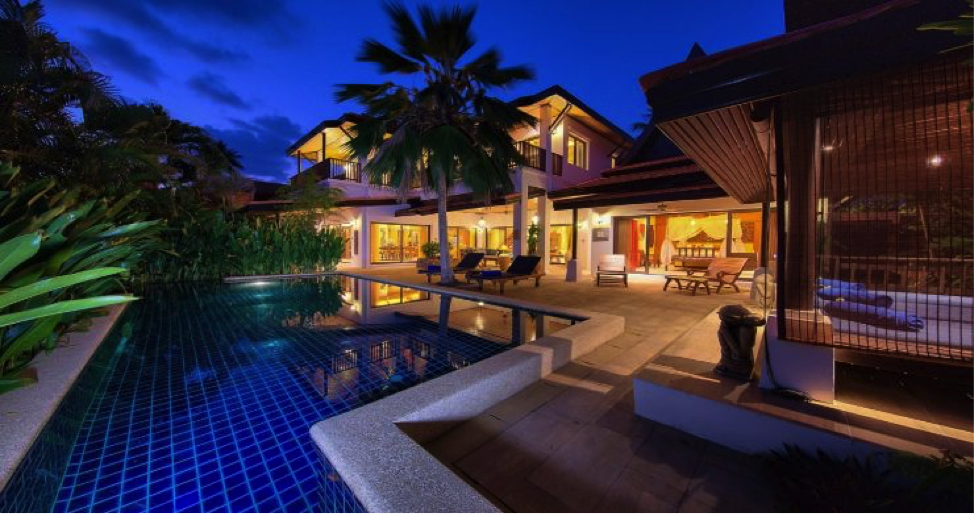 ​
This modern beachside villa is perfect for those looking to rent out beach properties or settle in. Located in Hua Thanon, which is only a few meters away from Nahai Beach, this modern sanctuary offers gorgeous sea and sunset views from its private, secure location. It's made up of two storeys with 3 double bedrooms, and combines Balinese architecture with antiques and a Western-style granite kitchen with modern appliances.
The open-plan living space, large windows, and ceiling fans make for a breezy, spacious interior, with the outside just as relaxing – there's a private pool on a sandstone terrace, with a sala pavilion and sunbeds, perfect for entertaining and even grilling. It makes the perfect rental property for those looking for a beach getaway, with all the amenities of a high-end, luxury home.
11) Modern 2-Bedroom Sea View Villa in Chaweng Noi
For stunning sea-views above the private Chaweng Noi hillside, a natural environment, and contemporary living, this modern 2-bedroom sea view villa by an award-winning developer is just the right investment for you.
The open-plan living space boasts a dining area at one end and a kitchen at the other, its space and view of mature trees accentuated by the double-height windows. Its modern tropical look is evident in the natural granite boulders at the corners of the bedrooms and bathrooms, which each have twin vanity units, built-in dressers, and a separate bathtub-shower. The villas are available for sale at a competitive price, considering its size, quality, and prime location, which is a 5-minute drive away from the Chaweng Noi beach and shops.
12) Contemporary Headland 3 Bed Villa on Taling Ngam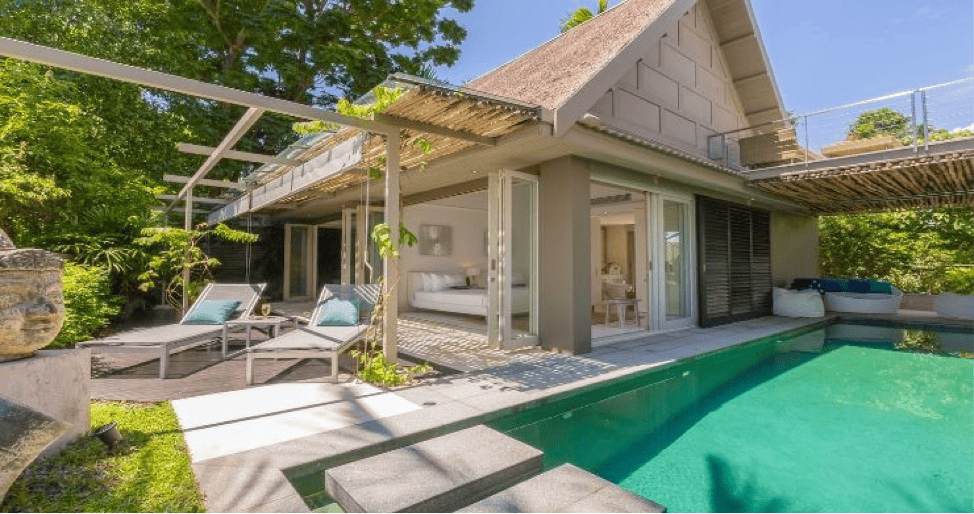 Be greeted by a panoramic view of the Gulf of Thailand while staying at this contemporary headland 3-bed villa, privately located at the southern part of Koh Samui island. This open-plan living and dining space is meant to showcase the tropical scenery outside while keeping the interiors minimalist, modern, and clean, especially with the neutral color scheme. You're getting a split-level mezzanine, outdoor sala, al-fresco dining deck, a private infinity pool, and state-of-the-art furniture – what more could you simply ask for? Perfect to move in immediately or to rent out to guests in need of a comfortable respite, this fully-managed villa is a good investment opportunity all year round.
13) New Modern 3 Bedroom Sea View Pool Villa in Bophut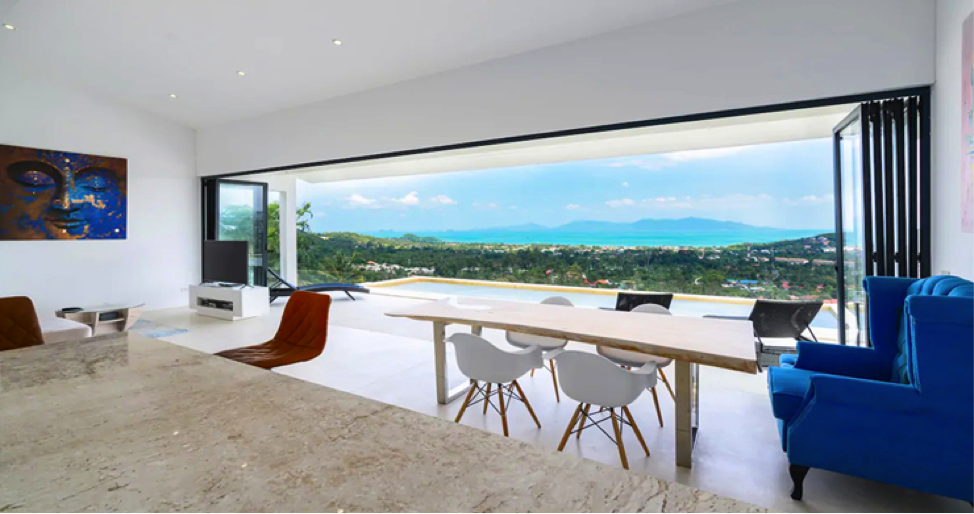 This modern take on a villa sits in a secluded part of Bophut, a place most notable for its Fisherman's Village which managed to retain its age-old charm. As with most modern architecture, this beautiful property is skillfully designed to showcase the beauty of Bophut. From the inside, the villa's living room space opens up to a stunning view of the city, with its floor to ceiling sliding glass doors giving you an instant panoramic view of the sea. Not only that, the outdoor terrace also leads to an infinity pool, creating a picturesque image of the water disappearing into the horizon towards the sea.
The house comes fully equipped with a western style kitchen, complete with an island, breakfast bar nook, and an outdoor lounge area. With that, the view alone is enough to close the deal., but the location is also prime, being 5 minutes away from the beach. With Bophut growing in popularity, land value is surely to increase in the coming years.
14) Panoramic 3 Bed Luxury Sea view Villa in Chaweng Hills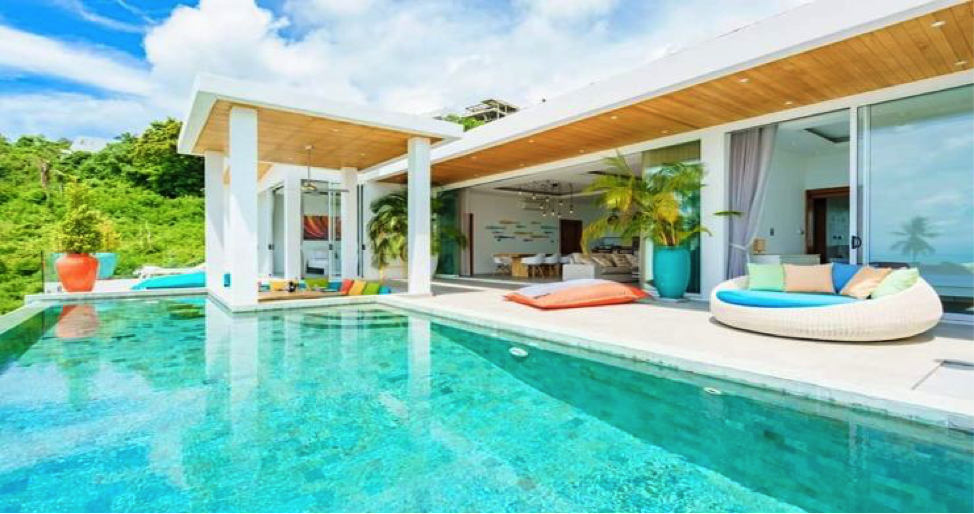 Immediately drawn to its unique and modern architecture, this panoramic villa sitting atop the Chaweng hillside is developed by a successful & experienced developer on the island. Popularized for moulding the architecture to the topography of the land, this contemporary villa with hard, straight lines to break away from the softness of its tropical surroundings.
While it stands out distinctively, the villa is also equipped with a cozy open-floor living room space, with its main focal point opening towards the private patio and the infinity-edged pool.
15) Contemporary 5 Bedroom Beachfront Villa in Bang Por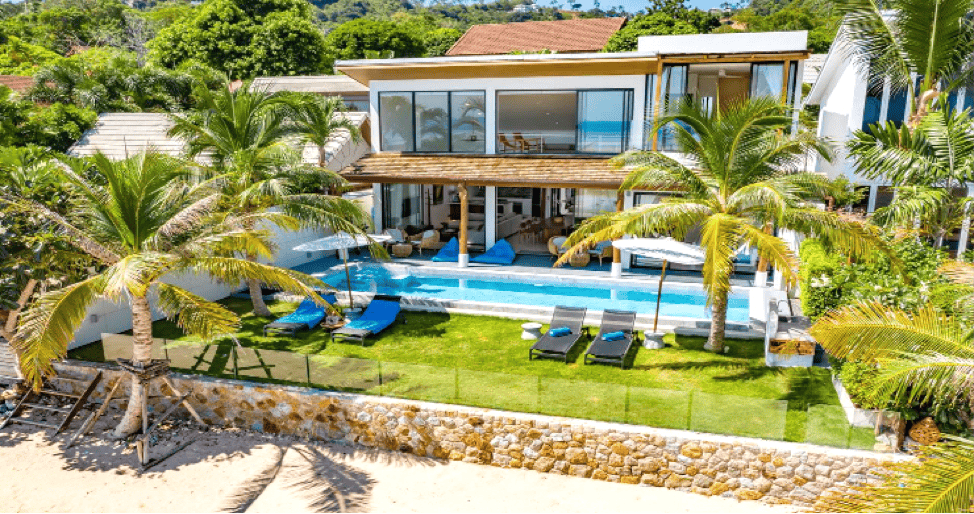 Fit for a brady bunch, this beachfront villa is the perfect vacation or summer home. Situated in the secluded beach of Bang Por, the property offers a beachfront access while remaining close by to several amenities and restaurants in the island.
This villa is a luxurious five-bedroom estate, ensuite bathrooms, it also comes complete with a fully equipped modern kitchen, furnished living room and deck area, a terrace, a barbeque area, and its own private pool. With that many amenities and room capacity, this is an ideal investment with a high rental potential. That view is unbeatable too.
16) Charming 3 Bedroom Modern Pool Villa in Bangrak
When looking for real estate investments, a key consideration is its proximity - proximity to the beach, the shops, the airport, or any restaurants nearby. In Bangrak, it seems to hit all of that. This particular property is a mere 5 minutes away from the airport or the nearest ferry pier, although is situated in the more secluded part of the island. The modern villa, characterized by minimal elements, manages to keep rather cozy with its use of tropical furniture to induce a similar vibe indoors. Enough to fit a family, it comes with 3 fully air conditioned bedrooms, 2 en-suite bathrooms, a Western-style kitchen with an open layout through the living room which leads to the terrace and the property's own private pool.
With those amenities provided, this property requires very little upkeep as well, making it very ideal for an investment as a second home.
17) New Modern 4 Bed Private Pool Villa in Tranquil Lamai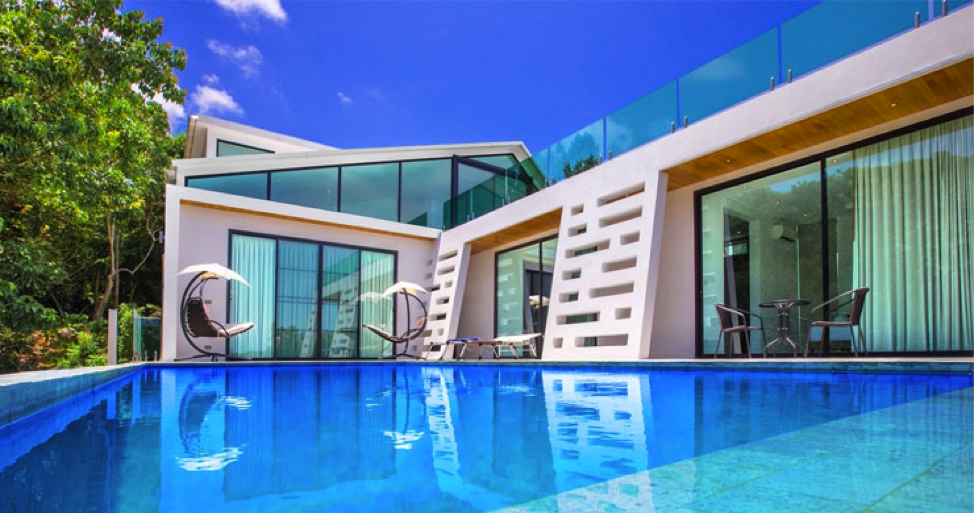 Compared to Chaweng, this private 4-bedroom villa in Lamai is a tranquil escape still set in the beautiful island of Koh Samui. The bungalow-style home comes equipped with an open-plan living room and dining area, complete kitchen equipment, bedrooms with en-suite bathrooms. However, on the outside, the terrace area contains a lounging area that surrounds the infinity pool. Being a walled property, the lush green landscaped garden helps cut through the hardness of the concrete to deliver a peaceful, tropical vibe.
Being close to the shopping centers, restaurants, stores, it is also another popular spot for property investors who like the convenience and its accessibility.
18) Sumptuous 4 Bed Sea View Pool Villa in Taling Ngam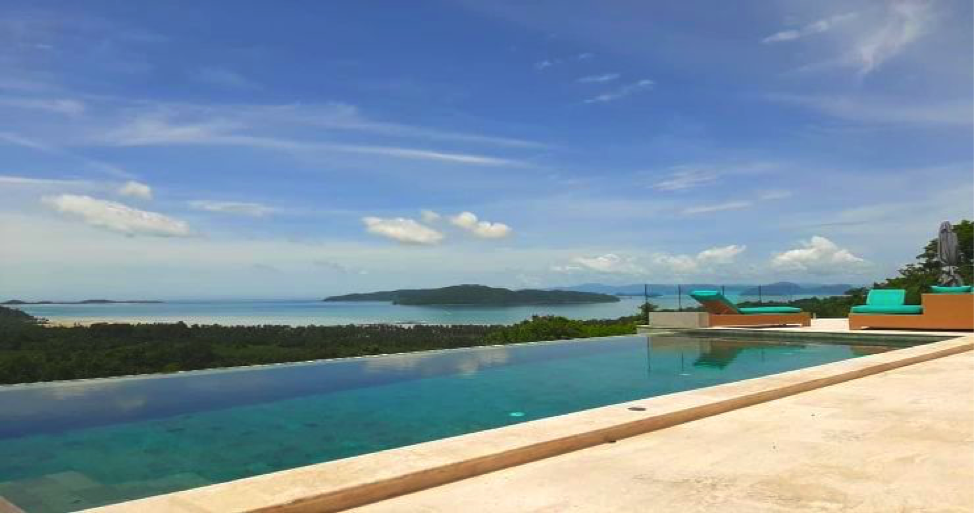 Every corner of this tropical sea view villa offers stunning panoramic sea views. The atmosphere of the entire property with its use of open spaces creates a cozy, relaxing ambiance. The outdoor terrace, complete with sun-loungers, makes it ideal for just chilling outdoor family or guests.
It is an ideal investment for big families or large groups - providing the balance between shared and open spaces with private bedrooms and en-suites. The villa holds 4 bedrooms, each one with an en-suite bathroom, an open-plan living rooms, an outdoor sala, an infinity pool. This unique villa presents a highly attractive rental investment or private sanctuary permanent residence.
19) Luxury 3 Bedroom Bali-style Pool Villa in Maenam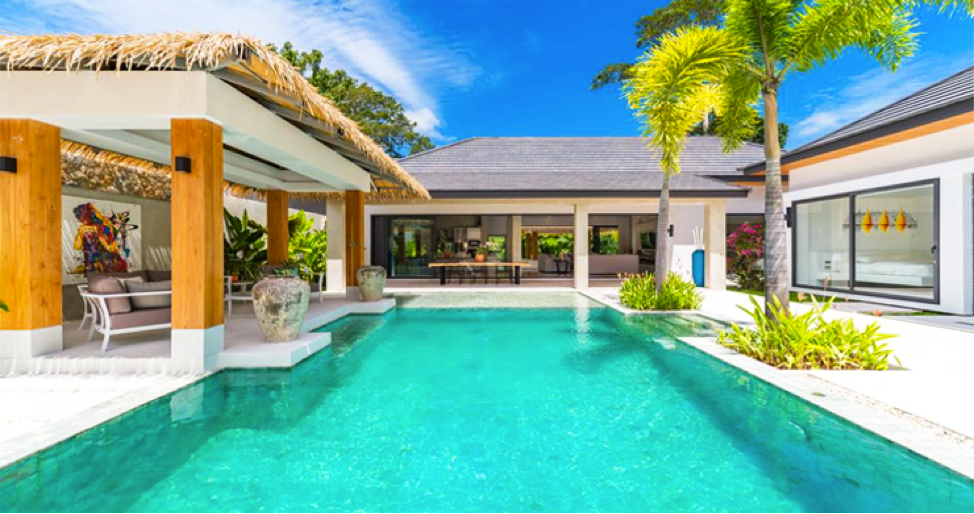 Feeling like a true vacation home - with the natural breeze, the light, and being a few steps away from a cannonball, this modern villa in the town of Maenam is perfect for those looking to leave the humdrum of the city life. This spacious 4-bedroom villa comes with 3 bedrooms with en-suite bathrooms, a large Western-style kitchen and dining room area, fully furnished - inside and out.
The saltwater swimming pool is a few steps away from the terrace, overlooking into the mountain views that surround this quaint town. The property split in two levels, the lower level being where the driveway area, the private parking, and the separate one bedroom is. This villa remains at a competitive price given its location and amenities.
20) Luxury 2 Bedroom Sea View Pool Villas in Maenam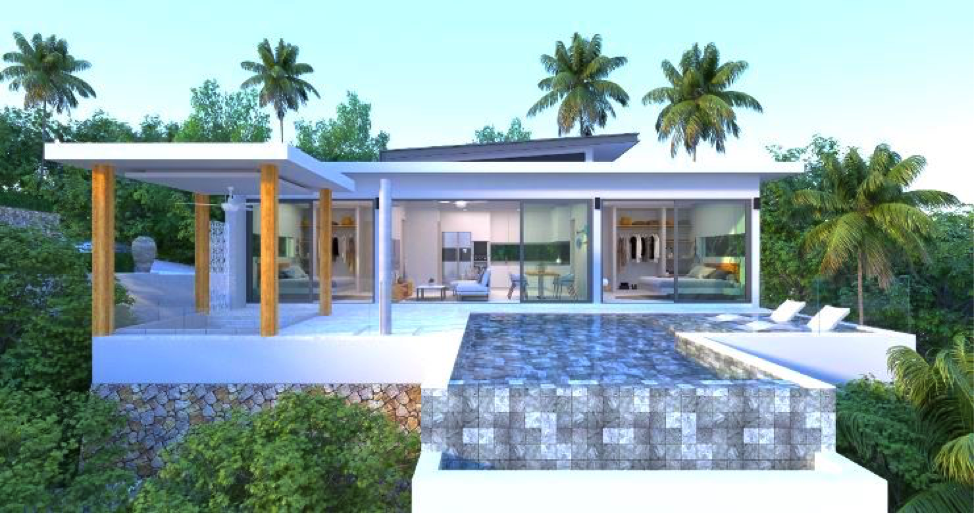 This luxurious development in the middle of Maenam consists of two detached villas which provide a stunning view of the sea. With the modern layout and contemporary design, a single-level villa consists of two bedrooms with an en-suite, a guest bathroom, between a fully equipped modern kitchen and an open plan living design.
The view from the living room space opens up into the pool area in which the pool-side area can be transformed. Compared to other developments, this one has no development fees and the buyer will have free-reign to design and reinvent the interiors of the place. This has a great investment potential at this given price point and the location.
Some Final Advice
​
Koh Samui, rivaling Phuket, is lauded for remaining a reliable hot spot for holiday tourists looking to get away from the city life and enjoy the wildlife and tropics Thailand's beautiful island is known for. Bophut and Chaweng, as the more populated areas in the island, are at the center of the property market in Koh Samui. However, the whole island of Koh Samui, along with its many hillside and seaside locations, showcase property value that is unparalleled in comparison to properties in similarly appreciated areas like Hong Kong, Singapore and Beijing.
Investing in a property that's in a private, secure, well-maintained, and ideally affluent neighborhood is highly recommended. As of today, only 30 to 40 percent of hotels in major Thai destinations are operational, such as Phuket, Chiang Mai, and Koh Samui. Despite this COVID-19 (check out our Covid Deals) pandemic, these islands still boast good, sunny weather and luxurious, natural living all year around.
Invest in a property in these areas today and start reaping the benefits in just a few years!