Dot Property Thailand Awards 2019: Conrad Properties Wins "Best Real Estate Agency"
January 27, 2020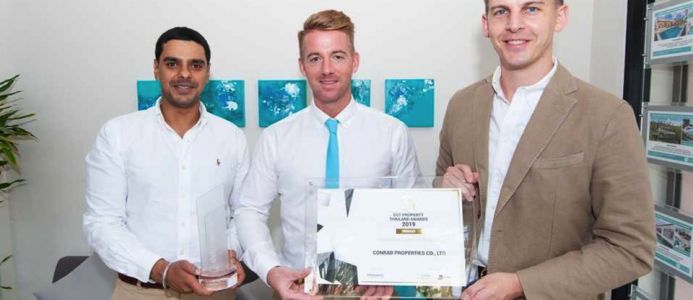 If you have not heard of Dot Property before now, it is the most prominent online property trading and media website in Thailand, boasting a website network that spans across nine countries in the Association of Southeast Asian Nations (ASEAN).
Dot Property specializes in connecting buyers, sellers, tenants, brokers/agents and project owners or operators, and makes it easier for them to work together towards a common goal: creating a better and more transparent property market for all involved.
Driven by its passion for real estate and deep appreciation for hard work and commitment to excellence in the sector, Dot Property recently came up with the Dot Property Southeast Asia Awards, a prestigious real estate awards event held annually to celebrate real estate in the region, as well as honor top performers in the industry.
Now in its fourth year, the event recognizes the country's top developers, projects, real estate agents and companies, and rewards their contributions to the sector. It is also "an inclusive showcase that connects the individual elements of the real estate industry," according to Adam Sutcliff, Dot Property Director, Events and International Markets.
Last year's edition of this special event which was attended by more than 200 of the region's best and brightest in real estate saw the return of Thailand's Best Real Estate Agencies where up to eight real estate agencies were honored.
We are very proud to announce to you that Conrad Properties was one of the real estate agencies that received this coveted award of Thailand's Best Real Estate Agency.
But what is the significance of this award?, one might ask. What does it really say about the recipient companies, when you get right down to it? What did Conrad Properties have to do or achieve, in order to be bestowed with this honour?
Of course, this award definitely did not come easy, as it takes a lot of hard work to be recognized by the movers and shakers of the industry, such as the brains behind Dot Property. Indeed, Conrad Properties as a real estate agency has made many significant contributions to the Thailand real estate sector.
We have so far assisted countless clients free of charge in buying and renting excellent yet affordable property projects all over Thailand. We have also made available to our
clients, unique investment opportunities which have earned, and which continue to earn them, significant ROI.
Because we view client relations as a partnership, we have always taken extra steps to ensure that property transactions on our platform are smoothly and confidentially handled, with zero complications.
Innovativeness and resourcefulness are important attributes for companies in the real estate industry. Conrad Properties has never failed to embrace new trends in the industry, while leveraging new and cutting-edge techniques to cater to the ever-changing needs of its clients.
Conrad Properties as an independent real estate agency is not in any form of partnership with any specific property sellers or developers, and as such always provides completely impartial and unbiased advice and opinion which clients have come to value.
It is not that easy to consistently provide reliable real estate services backed by passion, creativity and commitment; but that is just what Conrad Properties has built a reputation for providing unrivaled services that exceed clients' expectations.
So, is it really a surprise that Dot Property deemed it fit to honour our company with the Best Real Estate Agency award? We will leave you to answer that!
While we remain proud of this award, we recognize that we have not arrived yet, and we have every intention of working even harder in order to surpass our previous achievements, and retain our status as the best Thailand real estate agency you can trust.