6 Secrets You Should Know About Samui
November 8, 2016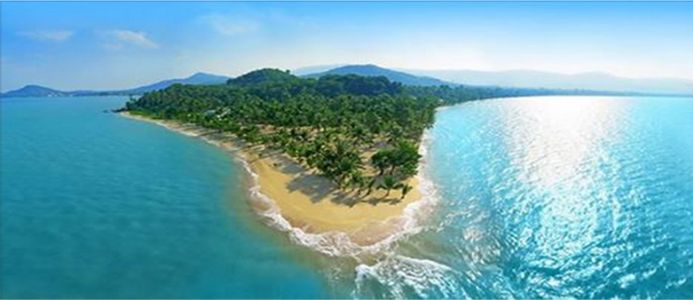 If you feel tired from work and want to escape to the beach, or you are still searching for your own piece of paradise...
Sit back and enjoy the ride, as we take you on our 'Secret Samui Guide' to this enchanting emerald island in Thailand.
1. "What is the secret to Samui's name?"
The coconut tree is often considered the symbol of Samui, however the words "Koh-Samui" are derived from the Chinese words "saboey", which means "safe-haven", and "Koh", the Thai word for "island".​
Situated in the Southern Gulf of Thailand, Samui has been safe from natural disasters, with more stable waters than islands on the West coast of Thailand, with their Monsoons coming from the Indian Ocean.
Going back in history, Samui was discovered hundreds of years ago by Chinese and Malay sea traders, who were drawn to the island's natural beauty, abundance of fresh fish and fruit, and many sheltered bays.
Since then Samui has come a long way…
It now features famous 5-star resorts and , with both celebrities and backpackers flocking from around the world to indulge in its intoxicating charms and hidden retreats.
*Top Tip: If you want to sound like a local, try pronouncing the name phonetically as it sounds: 'Ko-sa-moo-ee'
2. "How can I travel to the island safely & cheaply?"
The island is 700 km South of Bangkok and just 1 hour by plane...
With an international airport and various ferry connections, traveling to the island is easy. Bangkok Airways offer hourly direct flights with many options.
If you're traveling on a budget, 4 low-cost airlines fly from Bangkok to Surat Thani (the nearest city on the mainland) these are: Air Asia, Nok Air, Thai Smile & Lion Air.
Some of these budget flights are cheaper are than buses or trains from Bangkok to Surat Thai, however they are non-direct, with a 1 hour bus ride from Surat Thani to the pier and 1 & 1/2 hour ferry to the island.
With good weather it is an enjoyable way to travel. During storms it can be a rocky ride!
.
Another popular option is a sleeper train from Bangkok to Surat Thani.
Upper bunks are for those who enjoy their privacy and air-conditioning!
Lower bunks are less expensive, less private but less cool. Travelling by train is a slower, more scenic way to journey to the island.
*Top Tip: If you love diving, travel from Bangkok to Chumphon, with a speedboat to Koh Tao and finish on Koh Samui​!
3. "Where should I visit on the island?"
There are so many villages & towns on Samui it's hard to know what to see!
The secret to a successful trip on Koh Samui, is knowing where best to stay. Here are our top choice of areas to stay. (Clockwise round the island.)
Bophut & Fisherman's Village:
Fisherman's village was originally a traditional, old Thai fishing village...
However, it has recently reinvented itself as a hip & trendy hang-out, with popular new resorts, restaurants & night-markets on Mondays & Fridays, and a charming new shopping market called 'The Wharf'.
The village is perfect for families or couples who prefer peace and quiet. The sand may not be as soft, but it makes up for it with its vibrant boutique vibe, old wooden houses, arts, crafts & clothing shops.

Bangrak & Big Buddha:
Next is Bangrak, with its fresh fish market, ferry piers and hourly boats taking holiday-makers to Koh Tao island for diving trips, and party-goers to Koh-Phagnan for the famous full-moon parties!
This town has also undergone a lot of new development, with popular boasting spectacular sunsets. This place is popular for expats, with many local pubs & bars.
If you like a late night beer or game of pool, this area is for you!
Around the corner is the Big Buddha - a quieter and more family focused area. Initially, this place was first famous for the local fisherman on the island, as it was the safest spot to shelter during storms.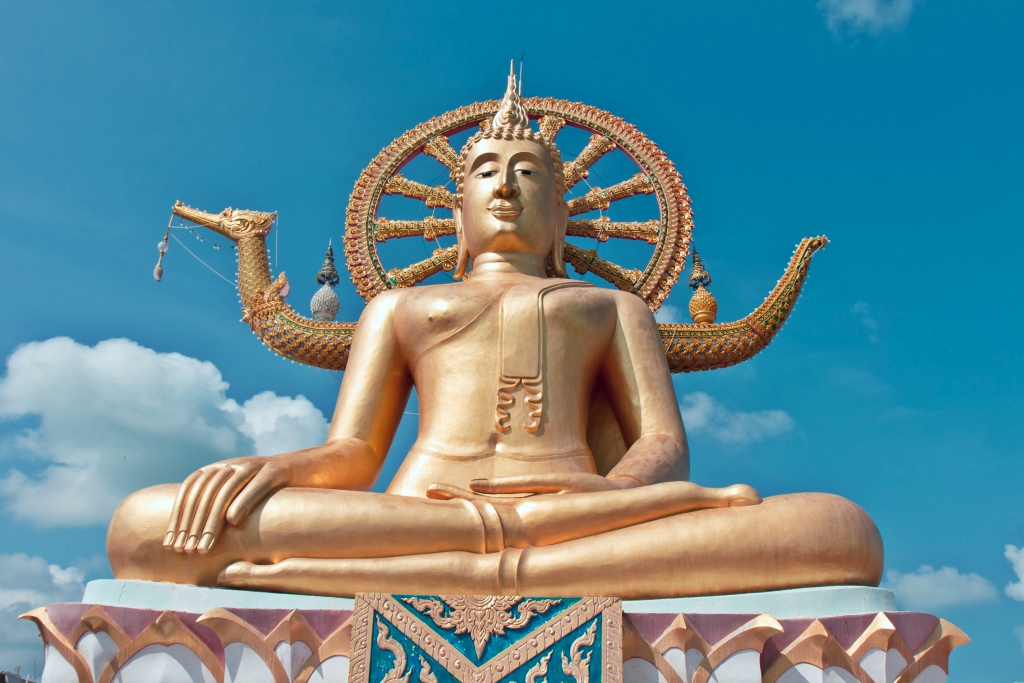 Plai Laem & Choeng Mon:
Plai Laem is a hidden sanctuary. (Referred to as 'the golden triangle' in real estate, sitting between 3 popular towns.)
It is a more peaceful place, which many tourists prefer, and also a favourite property investment area, with high capital appreciation in land prices.
Around the corner is the famous Choeng Mon bay, with its pure white sands and pristine waters. This area has all you need for a family-trip!

Chaweng & Chaweng Noi:
Next we have Chaweng, the 'center of Samui', which has so many things to see and do, that it's hard to list them all...
With the softest sand, busiest bars, biggest clubs and the cheapest cocktail buckets, this place has a lot going on!
Some of the eminent hangouts of this main beach road are the Ark Bar and Green Mango - 2 famous bar/clubs on the island.
This area has also undergone a recent make-over, with the Central Festival shopping center, and an eclectic mix of new shopping & dining to suit all budgets.
Chaweng Noi by contrast, is an idyllic paradise around the corner. Quieter and cleaner than the main Chaweng area, and featuring some Ultra-Luxury Villas in Chaweng Noi with sensational sea-views!

Lamai & Hua Thanon:
For those who enjoy deeper swimming waters, with a range of water-sports, beach bars & restaurants, Lamai is popular choice...
Sitting in the South of Samui, it is more bohemian & laid-back than the North East, and attracts families, couples, groups & backpackers, seeking more peace and quiet compared to the central Chaweng area.
A funny local landmark along the way is the famous 'Hin Tai Hin Yai' or 'Grandfather & Grand Mother' – giant, granite, rocks naturally shaped like female & male genitals.
Snaking around the corner there is the fishing village of Hua Thanon. A charming old village, with traditional wooden Thai houses, giving a rustic feel to the area.​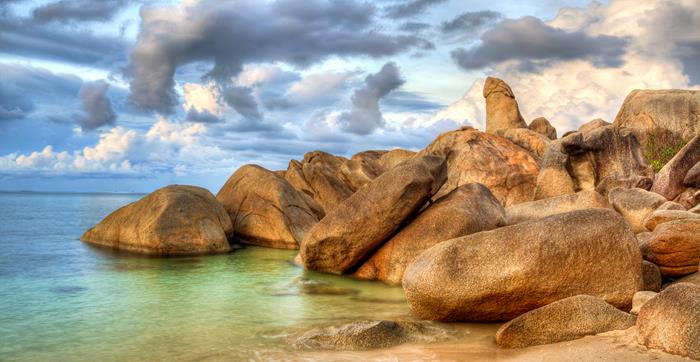 Thong Krut & Laem Set:
Then we have the tranquil Tong Krut & laid-back Laem Set, with their lush green nature; the perfect place to unwind...
If you want to try some local fresh fish, try the tradional Thai restaurant 'Gallapakkarang' on the Tong Krut beach, with teak wooden interiors and a famous palm tree pointing horizontally to the sea.

As you come to Laem Set, wind down your windows and breathe the fresh sea-air blowing through jungle. From shooting-ranges, to safaris, zoos & waterfalls, this area has fun for all the family!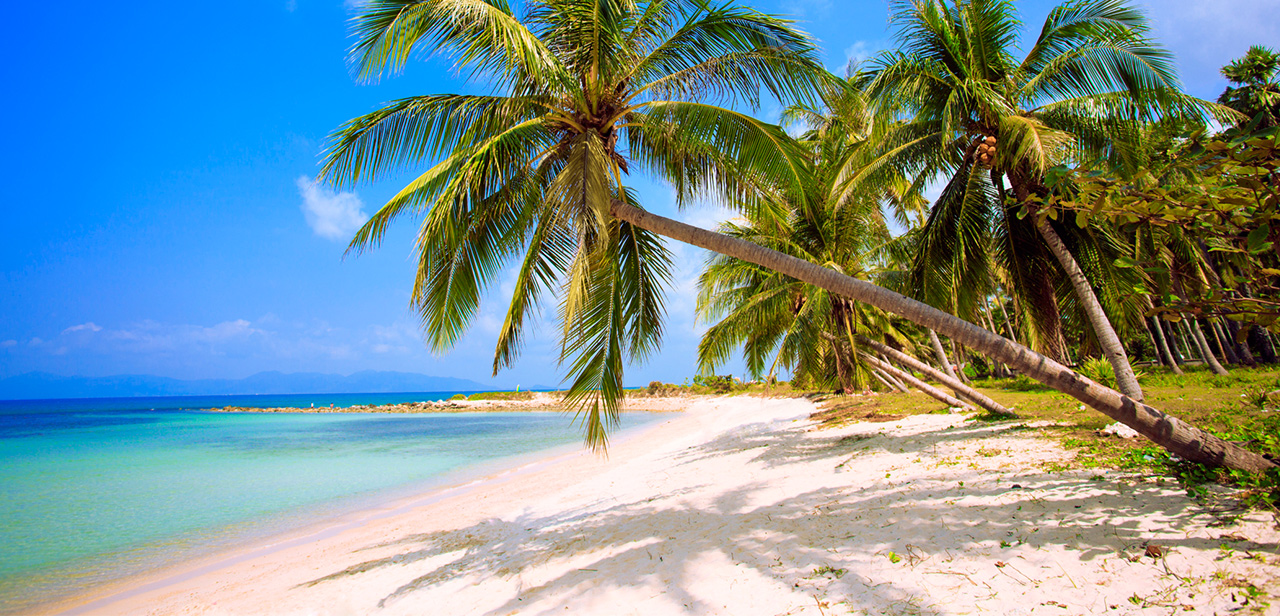 Lipa Noi & Nathorn:
These are two perfect places to take rest and watch the sun go down with a tropical cocktail, or whatever tickles your fancy!
With deserted golden beaches, serene sunset views, Lipa Noi has an intimate feel - ideal for romantic walks or sunset dips.
To complete your circle of the island, at the end of the day stop off for a sundowner the 'Sunset restaurant' on the corner of the Nathorn harbor road, you can see a spectacle of ferries & ships arriving.
Nathorn is a more industrial town - once the most popular and expensive land on Samui, until tourism arrived to the pristine of beaches of the Northeast of the island.
*Top Tip: If you plan to purchase , popular areas rising in price are: Chaweng Noi, Bophut & Plai Laem
4. "What can I do on island?"
Almost every activity you can imagine awaits on this tiny tropical island...
For those of you who like to walk on the wild side, try your hand (or feet) at kite-surfing, fly-boaring, bungee-jumping or elephant-trekking at the Na Muang Safari.
Take a diving day-trip off the coast of Koh-Tao or the Ang Thong National Marine Park: the largest archipelago of over 80 islands!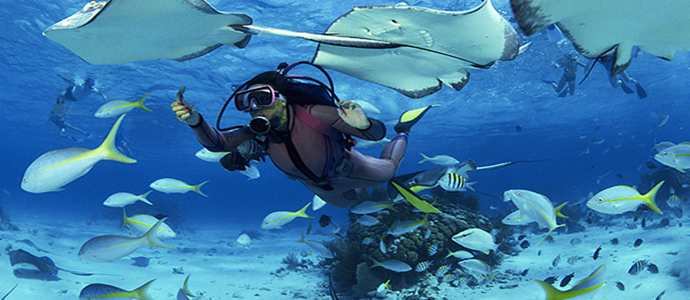 If you want to pamper yourself, pick a day-spa & indulge with a traditional Thai massage & coconut body-scrubs at Tamarind Springs Resort & Spa.
After, relax with a romantic dinner above beautiful Chaweng Noi bay..​.
*Top Tip: If you're seeking adventure, drive a jeep to the waterfalls. You may get lost, but that's half the fun!
5. "What is the weather like on the island?"
Koh-Samui weather is almost always beautiful. Bright blue skies and a cool ocean breezes are the norm on the island.
However remember it is a small tropical island, so be prepared for random outbursts of showers at anytime. The spontaneity of Samui life is one of it's many charms.
For those of you who like it hot, April to June is the best time to BBQ yourself, but the ideal temperature to visit the island late December to the end of March for that perfect tropical island weather experience.
However, be warned that the Christmas/New Year period is especially popular, with many people booking often months in advance!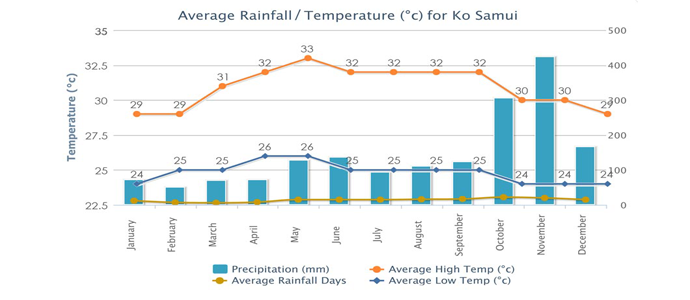 October - December is the rainy season and a chance to snap up some property promotions before new projects launch in the New Year!
Also, don't forget the different high & low tides in the seasons can mean a skinny or 100 meter deep beach!
For idyllic picture-postcard beaches, where you can safely sit on a penisular of sand 100 meters out at sea, check out the island's beaches between June - August.
*Top Tip: It can rain any time on the island. If you see the palm treetops shaking at night, reach for your umbrella!

6. "What are the building regulations?"
One of the secrets to Samui's success, compared to other islands, is the law that no building can be taller than a coconut tree!
(The regulation is 12 meters high.) This one of the simplest, most beautiful laws on Samui and helps protects the environment.
As a result are there are no unsightly skyscrapers and the highest buildings are only four stories high, with many projects opting for a low-rise resort-style design.
On 30th of May 2014 new land zoning & sizing restrictions were introduced for real estate in Koh Samui and other neighboring islands. These measures are there to maintain the island's natural beauty and are now also pushing up property prices.
However there are still bargains to be had in popular hotspots on the island. i.e: Plai Laem, Bophut & Chaweng Noi bays.
*Top Tip: Ask to see building permits & land titles. To minimize risk with off'-plan' purchases, see our .
*The Final Tip!
With so many secrets to Samui it's hard to share everything. The final secret is simply to close your computer and come see for yourself.
After all, some secrets are simply not worth sharing...
*If you enjoyed reading this, please feel free to with friends & island-lovers, or leave a comment below!